25kg Brown Fused Alumina FeSi 0,12 - 0,25mm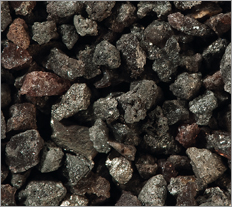 Brown Fused Alumina FeSi - NKF
Description

Brown Fused Alumina FeSi is a by-product of normal alumina production.
It consists of one mineral and one metallic part. A tough and hard aluminum oxide with exclusive on silicon bonded iron fractions (FeSi). Non-corrosive but aggressive blasting agent.
Brown fused alumina FeSi is an alternative to iron-free mineral blasting media in the surface preparation of steel.
Various applications in steel work like rust removal, roughening and paint removal. Wear protection, heavy concrete.

Applications

Reusable abrasive
Rust removal, paint-stripping
Roughening
Wear-resistant

Blasting systems

Pressure blast systems
Injection blast cabinets

Typical chemical analysis

Component
Value
Corundum Part
Al2 O3
39,00 %
TiO2
0,90 %
Fe2 O3
0,30 %
SiO2
0,30 %
FeSi Part
Fe
46,00 %
Si
7,20 %
Ti
3,00 %

Typical physical properties

Component
Value
Hardness
9 mohs
Grain shape
angular
Melting point
approx. 1500 °C
Specific gravity
approx. 5,5 g/cm3
Bulk density
(depending on granular size)
approx. 2,2 - 3,0 g/cm3

Hazards Identification

Corundum is not dangerous to health.
Its use is not associated with danger of silicosis.
Corundum is neither carcinogenic or toxic.

Available Grain Sizes

Grain sizes are supplied according to the FEPA recommendation
Special granulometries upon request.

Average grain size
in mm
0,12 - 0,25
0,25 - 0,50
0,50 - 1,00
0,50 - 1,50
1,00 - 1,50
1,00 - 2,00

Packaging

25kg bags, product as described

Service

A VAT included invoice is sent via e-mail with every sale (EU).
As a commercial consumer you can pay exclusivly of VAT (outside Germany). Please specify your VAT identification number.
The offered goods are all high-grade and new.
If there is any further information that you require do not hesitate to contact us.
In the case of bying several bags we can send them palletised. Please contact us previously.
---