25kg Zirblast 0.250 - 0.425 mm (B40)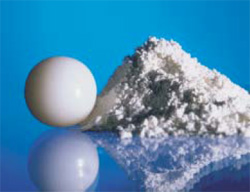 Zirblast
Ceramic Beads
New goods
Description

Ceramic beads are a zirconia based blasting medium, which is produced in a melting process and then shaped into spherical beads and classified in various grain sizes.
Zirblast is iron-free and extremely tough. It is insoluble in water, does not have any metal components and is not electroconductive. It has a chemical resistance.
Zirblast has a high fracture toughness, a low coefficient of friction and an extremly low tooling and machine wear. Only low dust emission and no contamination is caused while working with ceramic beads.
The round grain shape is especially appropriate for a gentle and conservative treatment of surfaces and for shotpeening. Due to the higher specific gravity of the ceramic bead  you can reach a higher jet velocity compared to glassbeads.
Zirblast is used amongst others for a surface finishing of stainless steel and aluminium components.

Application

deadening
engraving
deflashing
descaling
Finishing of stainless steel and alloys
cleaning of tools

paint stripping
removing of coatings

pretreatment for etching and electroplating

Blasting systems

injection blast systems

pressure blast systems
dry and wet blasting


Durability

Zirblast has a higher durability and jet velocity than glass beads.

Zirblast is reusable and ensures a high level of durability.

Typical chemical
analyse

| Component | Value |
| --- | --- |
| Al2 O3 | < 10% |
| SiO2 | 28 - 33 % |
| ZrO2 | 60-70 % |

Crystal structure

| Component | Value |
| --- | --- |
| ZrO2 | < 60 - 70 % |
| glass phase | 32 % |

Typical physical
properties

| Component | Unit | Value |
| --- | --- | --- |
| specific gravity | g/cm3 | 3,85 |
| hardness Vicker | HV | 700 |
| bulk density | kg/l | 2,3 |
| grain shape | [-] | round |
| hardness Mohs | [-] | 9 |

Hazards
Identification

Ceramic beads are not dangerous to health.
Its use is not associated with danger of silicosis.
Ceramic beads are neither carcinogenic nor toxic.

Shipping Conditions

We send the abrasive in 25kg jerracans.
A VAT invoice is included in every sale (EU). For intra-Community supplies or export, you will receive an invoice without VAT.

Service

The offered goods are all high-grade and new.
We have with twenty years of experience in blasting and abrasive techniques.
We trade in the commercial and industrial sector with high-quality blasting media. Safety data sheets and certificates are available upon request.
For supplying our customers we hold a very large warehouse stock with spares and blasting media.
If necessary we provide on-site fitting of the system (in Germany).
For optimal performance of the system we can provide maintenance services or we can teach you how to perform maintenance work independently.
If you need further information do not hesitate to contact us .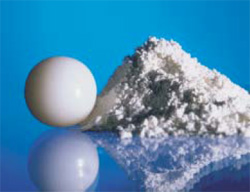 ---
Item number
9050-2
Manufacturer number
9050-2
Category
Ceramic beads
Shipping weight:
26,00 Kg
Product weight:

25,00

Kg

Contents:
25,00 kg