Abrasive bulk transfer system ABRALINE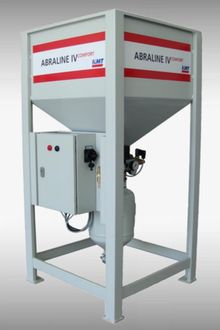 Abrasive bulk transfer system ABRALINE
for
waterjet cutting systems

KMT
General description
Abrasive bulk transfer system

Production reliability requires constant monitoring of the entire cutting process. The ABRALINE system monitors the availability of sufficient abrasives during the entire cutting process and ensures a constant abrasive flow rate. This assures process stability and a very high degree of reliability, prevents the components from damage and saves unnecessary costs.

Operating principle
ABRALINE

The ABRALINE transfer system consists of a big silo for the abrasives and a smaller vessel below the silo. The vessel contains abrasives under high pressure. The connected flexible hose guides the abrasives directly to the abrasive metering system of each cutting head. The operating state is monitored continuously by a control relay which is placed in a control station.
Both of the tanks contain level sensors located at the discharge funnel. Their signals are constantly monitored in the control station. When the abrasive level in the vessel reaches its minimum, the respective sensor sends out a signal to the control relay which opens the valve at the vessel inlet that refills the vessel with abrasives. If the abrasive levelin the upper vessel is lower than required, a warning light informs the operator of the unit to replenish the silo with abrasives.

Technical data
ABRALINE

You will find the most important technical data as follows:

| Physical quantity | Advanced |
| --- | --- |
| Max. flow rate | 4000 g/ min |
| Operating pressure | 2- 6 bar |
| Power supply | 115- 230 V |
| Pressure vessel volume | 24 l |
| Storage tank/ vessel capacity | 1000 kg |
| Length | 1060 mm |
| Width | 1060 mm |
| Height | 1915 mm |
| Net weight | 250 kg |

Appropriate vessel size

The ABRALINE system exist in two different sizes, suitable for different requirements. The smaller version ABRALINE Comfort is sufficient for ensuring the abrasive feed for occasional cutting needs. For supplying larger cutting units it is recommended to use the model ABRALINE Advanced.

Shipping Conditions

One abrasive bulk transfer system ABRALINE as described.
A VAT invoice is included in every sale (EU).
Free shipment to EU countries
For deliveries to non-EU countries, please contact us and send your delivery address for exact shipping quotes. Before bidding you must have a positive feedback and a confirmed address from us.

Service

We are an

authorized

KMT dealer

with twenty years of experience in blasting and abrasive techniques.
The offered goods are all high-grade and new.
For supplying our customers with the correct spares as quickly as possible we hold a very large warehouse stock with spares.
If necessary we provide on-site fitting of the system (in Germany).
For optimal performance of the system we can provide maintenance services or we can teach you how to perform maintenance work independently.
If you need further information do not hesitate to contact us.