High pressure pump SL-VI 30 PLUS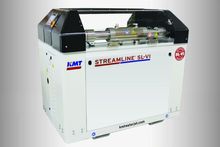 High pressure pump
SL-VI 30 PLUS
for
waterjet cutting systems

KMT
General description

The waterjet cutting technology is used for a very wide range of cutting applications. Therefore exist a large variety of available waterjet cutting systems:
1D slitter systems for cutting web material
2D cutting tables for cutting sheet material (cutting head moves along the x-, y- and z-axis (height adjustable))
3D robot applications for complex three dimensional outlines
Further customized solutions

Description
High pressure pump
SL-VI 30 PLUS

In those areas where a very high pressure is not needed, the STREAMLINE SL-VI can cut material at a pressure of up to 4136 bar. The pump units are available in three different power rates (22, 37 and 74 kW).
The new patented curve-on-curve design of the intensifier results to a longer lifetime of the cylinder body and the seal head connection.
The optimized geometry of the metal-on-metal seals facilitates the installation and leads to a longer lifetime.
The top cover is made of transparent material. Therefore, a visual inspection  of the intensifier assembly is possible without the necessity to open the cover. The EN ISO 13849-1 safety performance standard provides increased operational safety.

Technical details
STREAMLINE


SL-VI 30 PLUS

You will find the most important technical data as follows:

Physical quantity
Value
Engine power
22 kW / 30 hp
Pressure range
500- 4136 bar
Max. flow rate at max. pressure
2,6 l/ min
Length
1689 mm
Width
1114 mm
Height
1477 mm
Weight, full version
(Weight, stripped version)
1131 kg
(1008 kg)

Cutting water circuit

| | |
| --- | --- |
| Intensifier design | HSEC 20-C |
| Intensifier system | Single |
| Intensification ratio | 20: 1 |
| Max. stroke rate | 40 1/min |
| Attenuator volumen | 2 l |
| Cutting water inlet pressure | 2,4- 5,5 bar |
| Min. cutting water inlet flow | 11 l/ min |
| Low pressure filter | 10 micrometer abs. |

Maximal number of orifices at maximal pressure

The actual number of orifices depends on quality and wear of the orifies and may deviate from the given values minimally. ( 1) This orifice size is used for pure water cutting only.)

| Nozzle diameter in mm | number |
| --- | --- |
| 0,10 1) | 8 |
| 0,12 1) | 5 |
| 0,15 1) | 3 |
| 0,17 | 2 |
| 0,20 | 2 |
| 0,25 | 1 |

Controls and electrics

| | |
| --- | --- |
| Control system | Eaton Smartwire |
| User control display | 5,7 '' Color Touchscreen |
| Number of display languages | 11 |
| Motor start-up | Softstarter |
| Nominal current at 400V/ 50 Hz | 49 A |
| Fuse size at 400V/ 50 Hz | For the necessary fuse size please adhere to your local requirements |

Pneumatic, Hydraulics and cooling system

Hydraulic tank capacity: 150 l
Oil level and temperature control (sensor)
Oil/ water heat exchanger
Oil/ air cooler (optional)

Standard features and options

Redundant intensifier (optional)
High pressure transducer (optional)
Dual pressure setting
Proportional control (optional)
Cutting water inlet shut-off valve
Safety dump valve
Adjustable booster pump
Oil drip pan
Control cabinet/ (optional)
Electrical control system/ (optional)
Top cover/ (optional)

Others

Label according to EC-machinery directive: CE mark
Max. sound level: <74 dB(A)

Shipping Conditions

One high pressure pump SL-VI 30 PLUS as described.
A VAT invoice is included in every sale (EU).
Free shipment to EU countries
For deliveries to non-EU countries, please contact us and send your delivery address for exact shipping quotes. Before bidding you must have a positive feedback and a confirmed address from us.

Service

We are an

authorized

KMT dealer

with twenty years of experience in blasting and abrasive techniques.
The offered goods are all high-grade and new.
For supplying our customers with the correct spares as quickly as possible we hold a very large warehouse stock with spares.
If necessary we provide on-site fitting of the system (in Germany).
For optimal performance of the system we can provide maintenance services or we can teach you how to perform maintenance work independently.
If you need further information do not hesitate to contact us.