High pressure pump TRILINE TL-I 30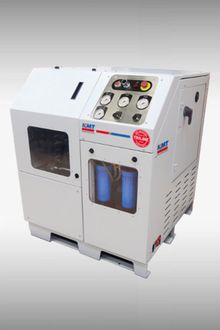 High pressure pump
TRILINE TL-I 30
for
waterjet cutting systems

KMT
General description

The waterjet cutting technology is used for a very wide range of cutting applications. Therefore exist a large variety of available waterjet cutting systems:
1D slitter systems for cutting web material
2D cutting tables for cutting sheet material (cutting head moves along the x-, y- and z-axis (height adjustable))
3D robot applications for complex three dimensional outlines
Further customized solutions

Description
High pressure pump TRILINE TL-I 30

The compact TRILINE TL-I 30 is a direct drive high pressure pump which combines the patented seal technology used in 6200 bar units with the efficiency of a direct drive.
The main important component of the TRILINE TL-I 30 is the crank case, which is designed for high performance and easy maintenance.
A patented pressure regulation valve enables quick changes of water pressure and water flow rate.
It is possible to use several undependend and reliable cutting heads.
The efficiency of the pump is particulary high when the cutting time reaches at least 80 % of the motor cutting time,
A softstarter reduces power peaks and electricity costs.

Standard features and options

Low-noise operation due to vibration and noise attenuating ribbing.
Oil level can directly be checked by means of a viewing window
Small footprint
Improved efficiency
No additional cooling water necessary
Constant pressure signal
With CE mark

Technical details
TRILINE TL-I 30

You will find the most important technical data as follows:

| Physical quantity | Value |
| --- | --- |
| Engine power | 22 kW /30 hp |
| Power supply | 400V/ 50 Hz |
| Max. pressure | 4137 bar |
| Operating pressure | 3800 bar |
| Flow rate | 3,1 l/ min |
| Max. orifice diameter | 0,30 mm |
| Max. stroke rate per plunger |  720 |
| Water inlet temperature | 12,7- 21°C |
| Compressed air supply | 6,2- 8,3 bar |

Power transmission via direct drive

The power transmission from the motor to the pressure intensifier is realized by a belt pully drive. Three plunger operate with a phase shift which results in a constant high pressure water flow rate. This direct power transmission enables a relativly high efficiency of 85 % and allows to use a fewer number of components, compared to an ordinary hydraulic circuit, which facilitates troubleshooting. In addition, belt pully drive systems are quieter and cleaner than hydraulic circuits, andwith the same engine performance, a direct drive high pressure pump can provide orifices with larger diameters than a pressure intensifier pump.

Shipping Conditions

One high pressure pump TRILINE TL-I 30 as described.
A VAT invoice is included in every sale (EU).
Free shipment to EU countries
For deliveries to non-EU countries, please contact us and send your delivery address for exact shipping quotes. Before bidding you must have a positive feedback and a confirmed address from us.

Service

We are an

authorized

KMT dealer

with twenty years of experience in blasting and abrasive techniques.
The offered goods are all high-grade and new.
For supplying our customers with the correct spares as quickly as possible we hold a very large warehouse stock with spares.
If necessary we provide on-site fitting of the system (in Germany).
For optimal performance of the system we can provide maintenance services or we can teach you how to perform maintenance work independently.
If you need further information do not hesitate to contact us.