Mobile sludge removal unit CLEANLINE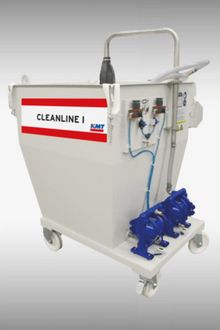 Mobile sludge removal unit
CLEANLINE
for
waterjet cutting systems

KMT
General description
Sludge removal unit

The mobile desludging unit CLEANLINE removes sludge deposits from the cutting basin during the ongoing cutting operation. The CLEANLINE works with compressed air only, which makes it possible to establish working conditions without the risk of short circuits.

Operating principle and description
CLEANLINE

The desludging system is equipped with a tube lance, which mixes the sludge up and sucks it in. Simultaneously, the filtered water is refilled into the cutting basin. The tube lance is positioned manually in the desired position where it remains during the cutting process until a changing of the position is preferred or the desludging process is terminated. The CLEANLINE unit removes per minute approximately 50- 60 kg sludge from the basin. At this rate a 2m x 3m cutting basin can be desluged in about 90- 100 minutes.
The CLEANLINE system is actuated by reliable pneumatically driven diaphragm pumps which have been developed especially for aggressive, abrasive and viscous liquids. The pumps are protected againstdry running, have maintenance-free air control valves and are protected against overload.
The unit consists of high quality material and thus guarantees low wear and long product life. The pump diaphragms and the valve components are tried and tested industrial standard products which are easily exchangeable.

Technical data
CLEANLINE

You will find the most important technical data as follows:

| Physical quantity | Value |
| --- | --- |
| Filling capacity | 1 m3 |
| Suction volume | 3- 4 m3 |
| Compressed-air supply | 4- 6 bar, 1 m3/ h |
| Standard hose length | 5 m |
| Length | 1100 mm |
| Width | 1000 mm |
| Height | 1750 mm |
| Net weight | 200 kg |

Shipping Conditions

One mobile sludge removal unit CLEANLINE as described.
A VAT invoice is included in every sale (EU).
Free shipment to EU countries
For deliveries to non-EU countries, please contact us and send your delivery address for exact shipping quotes. Before bidding you must have a positive feedback and a confirmed address from us.

Service

We are an

authorized

KMT dealer

with twenty years of experience in blasting and abrasive techniques.
The offered goods are all high-grade and new.
For supplying our customers with the correct spares as quickly as possible we hold a very large warehouse stock with spares.
If necessary we provide on-site fitting of the system (in Germany).
For optimal performance of the system we can provide maintenance services or we can teach you how to perform maintenance work independently.
If you need further information do not hesitate to contact us.