Wagner EvoMotion 40-15 compact PE, PTFE with valve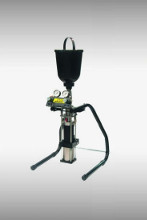 WagnerEvoMotion 40-15 compact®
high pressure piston pump
Description

High pressure piston pump, stainless steel, for Airless and AirCoat applications of up to 320 bar and 0,9 l/ min.

 The directly mounted hopper enables optimum intake, even with more viscous products.

Application
areas

Wood and furniture industry
Carpentry shops and joineries
Agriculture, construction and earth moving
General metal industry
Leather coating

Processable
materials

Water and solvent-based paints
Wood coatings
Moisture-sensitive materials, isocyanates
Shear-sensitive coatings
UV-cure materials
Temperature reactive materials (acrylics, for example)
Zinc primers

Technical data

| | |
| --- | --- |
| Pressure ratio | 40 : 1 |
| Air inlet pressure | 2,5 - 8,0 bar |
| Operating pressure | 320 bar |
| Volume per ds | 15 cm3 |
| Max. stroke frequency | 60 ds/ min |
| Max. flow rate | 0,9 l/min |
| Sound pressure level at 6 bar | 74 dB(A) |
| Weight | 12,5 kg |

Shipping conditions

1 Wagner EvoMotion 40-15 compact h

igh pressure piston pump

as described.
An invoice is included in every sale. VAT depending on shipping destination (VAT free for export and intra-community EU).
Free shipment to EU countries
For deliveries to non-EU countries, please contact us and send your delivery address for exact shipping quotes. Before bidding you must have a positive feedback and a confirmed address from us.

Service

We are an authorized WAGNER and WALTHER PILOT dealer with twenty years of experience in surface technology.
The offered goods are all high-grade and new.
For supplying our customers with the correct spares as quickly as possible we hold a very large warehouse stock with spares.
If necessary we provide on-site fitting of the system (in Germany).
For optimal performance of the system we can provide maintenance services or we can teach you how to perform maintenance work independently.
If you need further information do not hesitate to contact us.
---
Item number
5013
Manufacturer number
U6S40015HEB
Category
Basic Unit
Pump ratio:
40:1
Operating pressure:
320 bar
Volumetric flow per double stroke:
15 cm³
Air inlet pressure:
2,5-8,0 bar
Weight:
12,5
Sound level at
6 bar air inlet pressure:
74 dB(A
Volumetric flow per 60 double strokes:
0,9 l/ min
Maximum stroke frequency:
60 DH/ min