Walther Pilot PILOT Trend MP spray gun with gravity-feed cup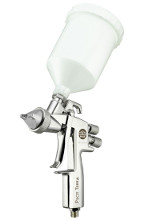 Walther Pilot
PILOT Trend MP spray gun
with gravity-feed cup
New goods
Description

WALTHER PILOT spray guns can process virtually all coating materials. These not only include water and solvent based lacquers, but also adhesives, separating agents, oils and more. All models offer an extensive nozzle selection to meet the highest quality requirements and ensure material-saving processes. This allows for particularly high application rates. Put us to the test and use the successful results as benchmark: The spraying results, the material savings, and the sustained contribution to environmental protection thanks to the reduced use of overspray.

Characteristics

Nozzle air cap system for fine atomizing and high transfer efficiency
Ergonomic design
Stainless steel for parts in touch with application material
Sealing elements solvent resistant
Needle sealing adjustable from outside and exchangeable
For left and right hand operation
Body: beaten aluminium
Incl. cup 600 ml with sieve

Application

Furniture industry and joinery, automotive paintshops and assembly plants, plastic industry, food and pharmaceutical industries, model building and design
For processing paints, bating, varnish, solvents
The PILOT Trend combines an ergonomic design with an innovative air cap nozzle technology. Fine results are achieved, friendly to the environment, safes material and working time

Technical Data

Net weight: 542 g (with gravity-feed cup: 438 g)
Max. inlet air pressure: 3,3 bar
Max. spray pressure: 1,4 bar
Sound level (in 1m distance): 79 dB(A)

Accessories

Disposable cup systems
PILOT Trend MP accessories-jet nozzle inserts
Nozzle 0,5 mm
Nozzle 0,8 mm
Nozzle 1,0 mm
Nozzle 1,2 mm
Nozzle 1,5 mm
Nozzle 1,8 mm
Nozzle 2,0 mm
Nozzle 2,5 mm

Spare Parts

We are an authorized Wagner and Walther Pilot dealer with more than twenty years of experience in surface technology.
For supplying our customers with the correct spares as quickly as possible we hold a very large warehouse stock with spares. 
If you need help to identify the parts you required please contact us for assistance.

Shipping

1 x Walther Pilot PILOT Trend MP spray gun with gravity-feed cup as described.
Pricing is exclusive VAT.
Shipping outside EU is DAP (incoterms 2010).
The ebay-charge is assumed by the seller.
An invoice (VAT depending on shipment destination or VAT-ID) is included with every sale.
For deliveries to non EU- member states and the rest of the world please contact us and send your delivery address for exact shipping quotes. Before bidding you must have a postive feedback and a confirmed address from us.

Quality and Service

The offered goods are all high-grade and new.
If there is any further information that you require do not hesitate to contact us.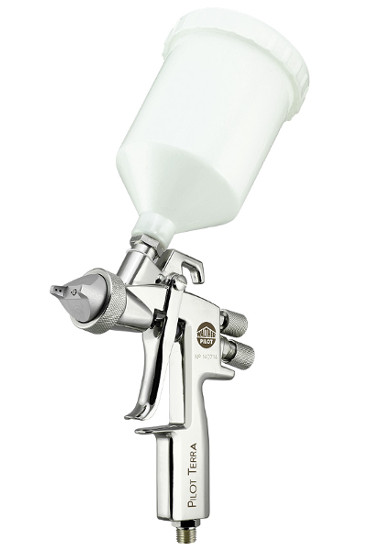 ---